| | |
| --- | --- |
| Posted by jameshillgoats on February 1, 2014 at 12:15 AM | |
Here on James Hill we love our egg basket to be full of colorful eggs.  As most of you will remember, we have been working on an egg project to produce "olive" eggs...a richer, deeper color than the sage green that some Ameraucanas and Easter Eggers lay.  Our hatching thus far in this project produced two roosters and four hens.  
That clutch of chicks have matured very nicely, and the hens have started to lay.  We are very pleased with the result.  A range of olive colored eggs, including one hen who lays a VERY speckled egg.  I am a big fan of speckled eggs, and think they look amazing with the olive green color.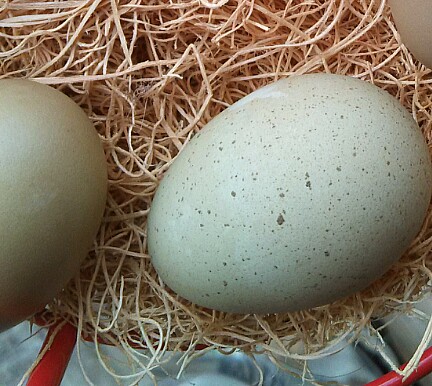 The olive green is an extremely difficult color to capture on my digital camera.  These are the best pictures I have managed so far, though the eggs have a more green tint in person, rather than grayish as comes through on camera.  Still, I think you can see that these eggs are very different than what you will find at the grocers!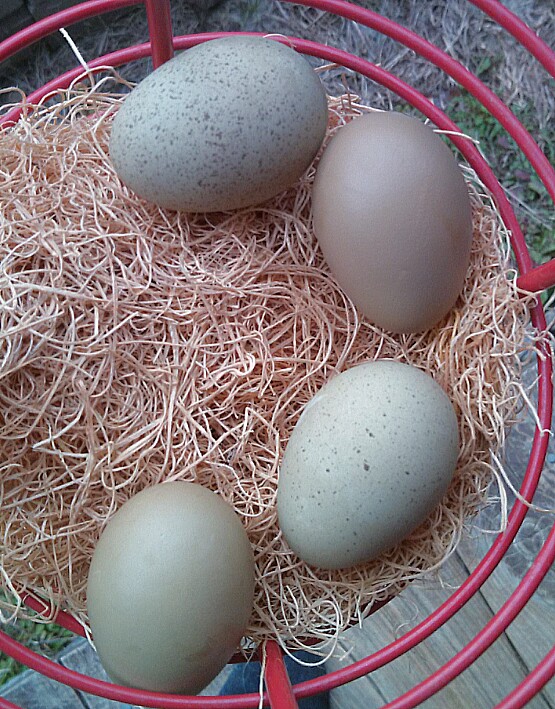 These chickens are a cross of Blue and Black Ameraucanas with Black and Splash Marans.  In our experience with Marans and Olive Eggers thus far, the Black  and Black Copper Marans lay a much darker brown egg than the Blue or Splash.  Since the dark outer coating of the Marans is what gives the olive eggs their unique color, the most "olive" of the eggs come from Black Olive Egger hens.  The Blue and Splash Olive Egger hens produce an olive colored egg, just not as deep in color. 
Of our original six olive eggers that hatched, we lost one of the roosters to predators, and one of the hens to an unknown cause.  I had promised a hen to one of our fellow chicken loving friends, leaving us with just a trio of these special birds.  But that's OK.  We still have our parent stock, so can you guess what's in the incubator right now?!?