| | |
| --- | --- |
| Posted by jameshillgoats on February 24, 2015 at 11:15 PM | |
Here at James Hill, we usually group our breedings so that most of our kids are born within a 4-6 week period in the spring.  This year, our does had very different plans!  Their heats were spread over a much longer time frame (I'm sure it was a conspiracy so that they each get their OWN time in the spotlight!).  
This year, our kidding season will stretch from next week through until June!  To be truthful, it will be of benefit to the socialization of our kids.  With fewer kids at a time, we will have more opportunity to interact with each of them on an individual basis. To perspective new owners, that means they will come to you pre-spoiled !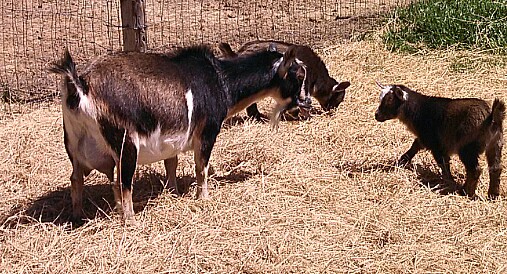 Muffin is our first doe due to kid this season.  It has been too muddy and cold the last week or so to get an updated pic of her, but here she is last spring checking out new members of the herd.  This will be her third freshening, and is a repeat breeding of the same mating that gave us Bunny (our doe that produced quads on her first freshening last spring).  Muffin is an easy milker with very nice teats. Fingers crossed for doe kids!