| | |
| --- | --- |
| Posted by jameshillgoats on March 13, 2014 at 11:30 PM | |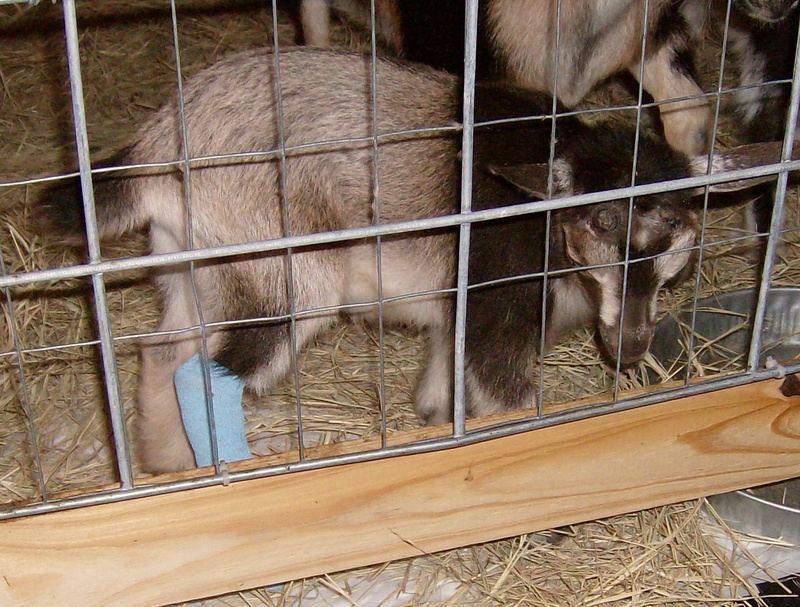 Does anyone remember this poor little doe who broke her leg when she was just weeks old?   Her name is James Hill Cinnamon Bun, or "Bunny" to her family (us!).  We had several anxious weeks with her then, as the break was completely through the bone of her leg and the splint was minimally effective in keeping it immobilized.  At one point it was suggested that the best option might be to put her down, as it seemed her leg was never going to heal.  But persistance and time paid off, and the bone healed without any significant deformity and with full mobility of the leg.
Bunny is now 2 years old, and she was bred last fall.  She was due for her first kidding on March 15th.  I worked an extra shift this week at my "real job" on the night of the 12th.  I checked on her immediately before I left for work.  NO signs of labor, NO change in behaviour.   I was confident she still had a couple days to go.  Imagine my surprise when hubby called LESS THAN AN HOUR LATER to announce that Bunny had kidded.  
Now I'm the first to admit that I am the goat person in the family, but hubby and son bravely met the challenge of  caring for Bunny and her kids.  Kids were dried and their umbilical cords dipped in Betadine.  Fresh bedding in the kidding pen for dam and kids, a meal and a big fresh bowl of water for Bunny.  They did a great job, but it was Bunny who was the star of the day.  You see, she paid us back for all the time and worry spent in her early life...she kidded QUADRUPLETS!!!  AND they are all DOES!!!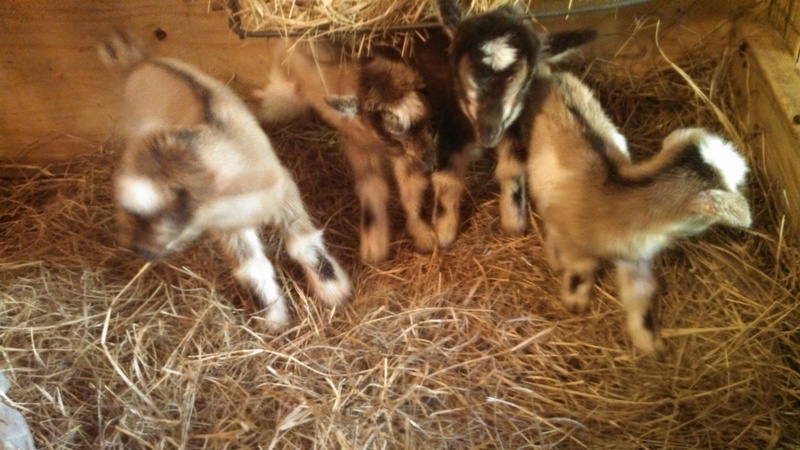 Sweet, adorable babies.  All up and active, all nursing.  Two of them are a bit small, but should do fine with good care and attention from their dam.  Way to go Bunny!