| | |
| --- | --- |
| Posted by jameshillgoats on March 3, 2014 at 10:10 AM | |
Just before I sat down to write this entry, I walked out on the porch to watch it snow.  Yes, SNOW!!!  For the forth time this winter...in Louisiana.  I almost postponed this writing for a later date.  But as hard as it is to believe, time is marching on and spring will be here before you know it!
This past Saturday, my son and I took advantage of the 70 degree weather to catch up on our spring chores.  We did some major cutting back of our perenniel herbs, evergreen shrubbery, vining roses and blackberry bushes.  Dug the majority of the weeds from the garden spot, and spread the site with compost to be tilled in later this week.  Cleaned the chicken coops and scattered them with rosemary trimmings to discourage insect and rodent pests.  All in all, a very busy day.  But it was easy to keep in good spirits with reminders of spring popping up, like this double daffodil we transplanted from an old home site a few years ago: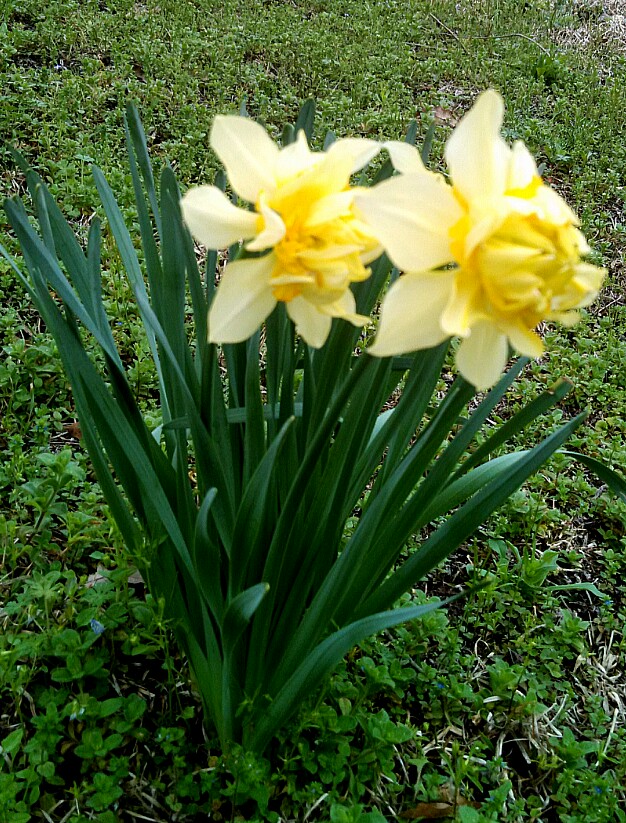 With the exception of kidding and harvest time, early Spring is our busiest time here at James Hill.  Late February/early March is the ideal time for many Louisiana gardening activities.  Fruit and nut-bearing trees need to be planted now, and it's a good time to trim up and fertilize those orchard trees we already have.  Potatoes, onions, and that spring crop of greens need to be planted now to take advantage of the season before summer temps get too hot.  
The Louisiana State University Ag Center has a wealth of information on home gardening, as well as a calendar outlining garden and livestock related activities and offerings for our state.  Visit their website at www.lsuagcenter.com