| | |
| --- | --- |
| Posted by jameshillgoats on February 18, 2014 at 9:00 PM | |
After our latest post of our incubation, I received several questions regarding which specific "breed" of chicken is an olive egger.  Actually, an olive egger is not a recognized chicken breed.  It is a crossbred chicken developed with the intent to produce an egg shell color that is indeed an olive shade of green.
This can be attempted through various crosses of recognized chicken breeds.  The key to success is to start with one parent from a very dark brown egg laying breed (Penedesenca, Marans, etc.) and one parent from a blue egg laying breed (Ameraucana, Auracana, etc.).  
A little further explanation of egg shell coloring is required here.  Simply speaking, blue egg shells are blue all the way through to the inside surface of the egg.  However, very dark brown colored egg shells are actually lighter brown eggs that are "coated" with a darker brown pigment as they move through the hen.  This surface coating can be scratched or (firmly) rubbed off, revealing a lighter brown shell underneath.  The various olive green shades are produced by the coating of this dark pigment over a blue egg shell.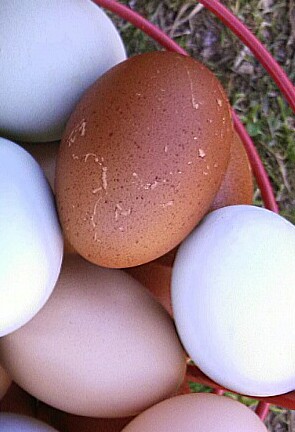 Scratches in outer coating of Marans egg showing lighter color underneath. 
Here at James Hill, we cross BBS (blue,black and splash) and Black Copper Marans with Ameraucanas.  I have NOT seen that it matters which breed is the hen and which is the rooster, as long as you cross one parent of each breed.  (Please bear in mind that we are talking about TRUE Ameraucanas.  These are not to be confused with cross bred "easter eggers" that are often passed off as Ameraucanas  by some hatcheries.)
The majority of female offspring of this cross will lay an olive egg, though a few will produce a light brown egg.  The majority of the males will carry the green egg gene and can pass it on to their offspring.  Unfortunately, there is no way to ascertain whether these chickens are truly "olive eggers" until they lay their first egg, or sire their first offspring (though some breeders feel your chances are improved by keeping only those chicks with a pea-type comb).  This breeding project is a bit of a gamble, but it's worth the effort for such unique color!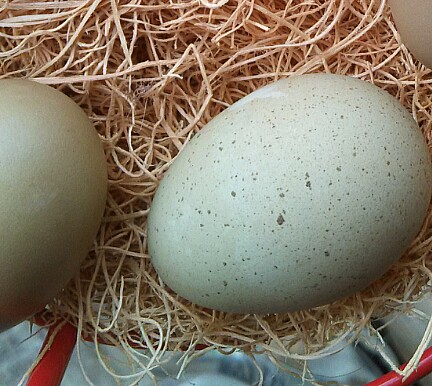 "Olive" eggs from Marans/Ameraucana cross hens.