| | |
| --- | --- |
| Posted by jameshillgoats on February 13, 2014 at 12:25 AM | |
It's day number 20 for our olive egger incubation.  I have had serious doubts about the viability of this hatch.
First, we have had an unusually cold winter for our region, including TWO snowfalls and (yesterday!) an ice storm. Though we had saved our eggs for setting on some of the warmer days we had, I was still concerned that they may have cooled too much to remain fertile.  And during the sleet and freezing rain of the ice storm yesterday, I kept my fingers crossed that we wouldn't lose electricity and interupt the incubation in its last few days.  The trees of our southern rural forest are mostly pine.  Ice collects in the evergreen foliage of these trees, and the weight of that ice easily snaps their soft-wooded limbs or uproots the entire top-heavy tree.  The power lines never stand a chance!         
On the two occasions that I candled the eggs, the results were inconclusive.  I was unable to visualize blood vessels either time, and was not convinced that the vaguely darkened area I could see was a growing chick.  Difficulty in candling dark and colored shell eggs is to be expected though, as the light just doesn't penetrate as well as it does with white or lighter brown shells.  The appearance of an air cell in the eggs was enough to give me hope, and I decided to go on with the hatch cycle (though I half-expected to be greeted any morning with the stench of a burst rotten egg bomb!).  I was yet to hear any cheeps or peeps to indicate ready to hatch chicks.  I wasn't sure whether the movement I saw of just that ONE egg was from a wiggly chick inside, or a hallucination brought on by wishful thinking. 
Well, the storm spared us the worst of its ice, and we made it through without losing the lights.  On my arrival home from work this morning, I checked the incubator and found...PIPS!!!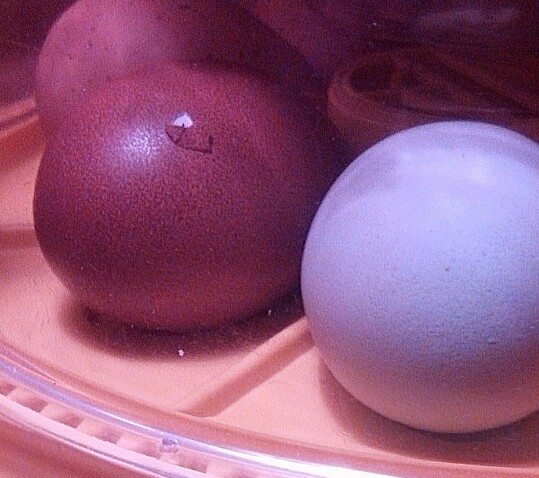 Yep, 6 of the 7 eggs have that first tiny opening in the shell that's a sure sign there's a lively little chick in there who is ready to get out!  And as I'm typing, I'm almost certain I can hear the very faint occasional cheep.  I can't wait to watch the process of the hatch as it progresses.  Our Brinsea Mini-Advance has a clear dome cover, which is probably my favorite feature of this handy little incubator.  (Read more about this incubator in our product review blog section).  And to think I ALMOST threw these little fellows out in their first 2 weeks of development!  I'm hoping for mostly hens...I'll keep you posted!